UPCOMING EVENTS

*TICKETS NOW AVAILABLE* 
Please call (830) 796-3448 to purchase your tickets today or purchase them online. 
Come join us for the 4th Annual CORK & FORK honoring Johnny Boyle, recipient of the inaugural Hometown Hero Award! The annual event will be held at the Farm Country Club, where we will be saluting our veterans and celebrating the Clinic's 10th anniversary.
Enjoy great food, friendship and fun for a great cause! Including dancing and live music by country legend Tony Booth, back by popular demand! We will also have door prizes, as well as silent and live auctions available. DRESS: BANDERA CASUAL
SATURDAY, NOVEMBER 10, 2018
6 to 10 PM  
THE FARM COUNTRY CLUB
347 Pue Road, Bandera, TX 78003        
                                                                  
Live Music by TONY BOOTH        
 
Catering by 
KIRBY & STEPHANIE JONES
THE RANCH HOUSE
WINE, BEER, AND SOFT DRINKS
SILENT & LIVE AUCTIONS
DOOR PRIZES & MUCH MORE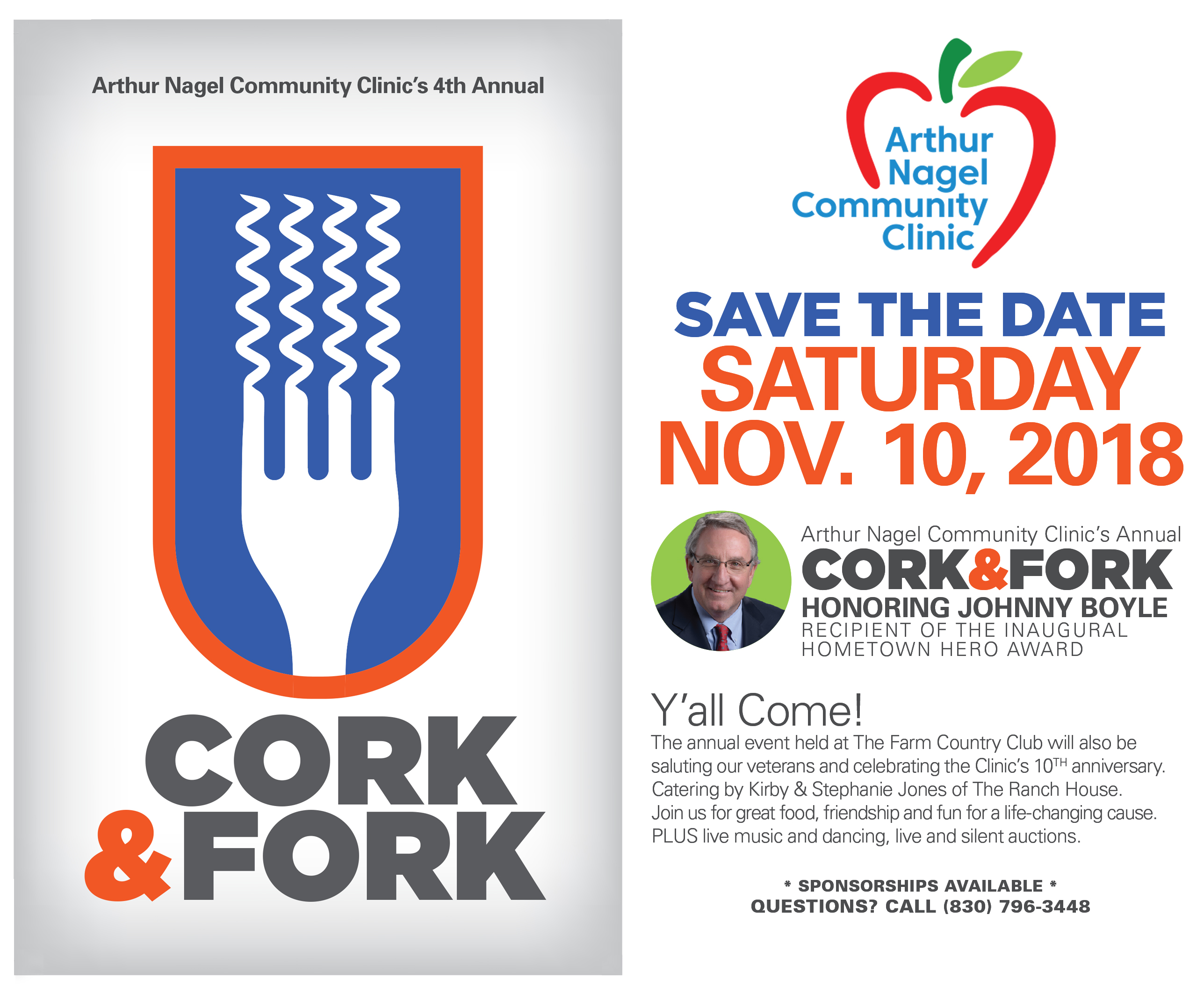 SIMPLY MOVE
The Arthur Nagel Community Clinic offers exercise classes 3 times a week. The classes are at the Village of Hope Activity and Event Center by Helping Hand. 
Tuesdays 4:30 to 5:30 pm Cardio Class
Wednesdays 4:30-5:30 pm Barre Class
Thursdays 4:30-5:30 pm Yoga
Come join us and bring a friend. These classes are open to everyone!